Welcome to
Sofitel Athens Airport
Distances
Athens International Airport: 50m, Public transportation: 100m (Metro, Bus, Suburban Railway), Next to Attiki Odos
Overview
Sofitel Athens Airport, member of Mitsis Premium Collection, invites guests to indulge into a unique experience, combining French refinement and Greek hospitality.
The only hotel located just a step away from the Arrivals Terminal of Athens International Airport, Sofitel Athens Airport offers 345 rooms, including 12 suites and a prestige suite, 2 restaurant-bars, a lounge bar and a fitness centre with an indoor swimming pool. The business facilities of Sofitel Athens Airport include 11 fully equipped meeting rooms that can accommodate up to 600 delegates. Following an impressive renovation during the past 3 years, the new modern design combined with the upscale service, representative of the Mitsis Hotels' Group hospitality, satisfies even the most eclectic guest.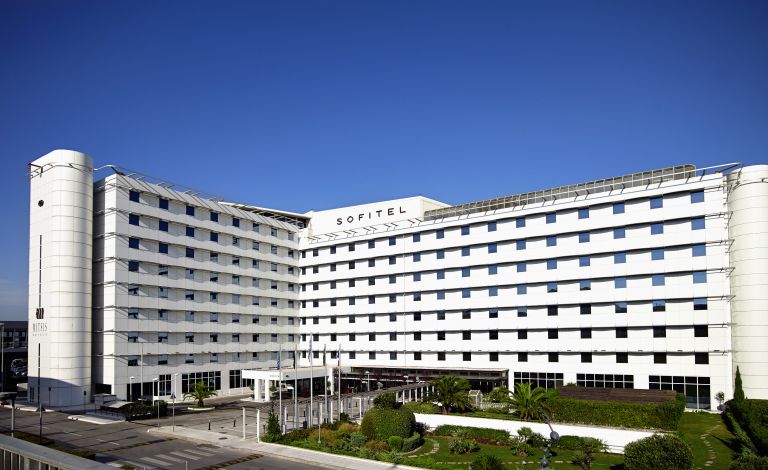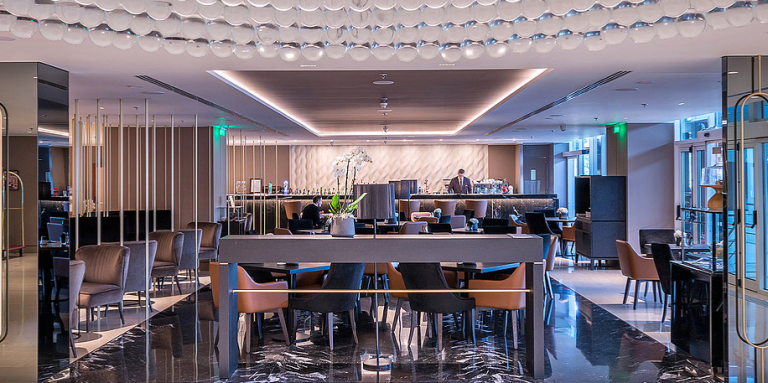 Fine Dining
The place for the eclectic guest, seeking taste, originality, and aesthetics. Rose gold details, oxford blue finishes and white marble surfaces offer a distinct style to accompany delicious Greek flavours.
This contemporary bar is the ideal space from a quick morning coffee to a signature cocktail in the evening. Enjoy the trendy pergola with the modern lounge or grab a snack before or after your flight in the open space veranda.
Recreation
Indulge in the wide range of offerings at Sofitel Athens Airport 's Spa facilities: fitness centre with sauna, gym and indoor swimming pool with panoramic views, facial & body treatments, hair styling and nail salon.
Services
In an environment, harmoniously combining heartfelt hospitality and modern surroundings, impeccable organisation, and the latest technological equipment you will find the ideal solution for your stay. Our Sofitel ambassadors will gladly assist you with anything you might need. Enjoy your stay with the superb services of Sofitel Athens Airport! Guests here have the assurance of friendly and highly professional staff combined with the advantage of all the latest business and entertainment systems, in rooms and throughout the hotel. No matter if you are here for business or leisure, your comfort is certain.
Guest Reviews
Nice, near the Airport
It was nice to wake up next to the airport. The isolation of the room was perfect and the bed splendid. The staff was kind and helpful. I definitely recommend Sofitel Athens Airport!
AMAZING STAY!
Great room with amazing, comfortable beds and great bathrooms. The room service was really good! For sure we will choose Sofitel again for a future stay or visit to Athens!
Very Convenient for Airport and City
Sofitel is a very clean, friendly hotel with lovely large rooms. Super convenient for the airport, being directly opposite, but not noisy at all. It's a true oasis of calm and very relaxing.
Amazing Stay!
We had a wonderful stay. Room was clean, well decorated and spacious. Bed was very comfortable. The pool area was the perfect place to be after a long trip.
Excellent service
Excellent service, amazing quality breakfast and very professional and polite staff! Perfect location for someone who travels, just two steps from the airport. Cozy, luxurious rooms. Five stars for sure!
Awards