Welcome to
Rinela Beach Resort & Spa
Distances
Heraklion: 12 km, Airport: 10 km, Port: 11 km, Creta Aquarium: 2 km, Watercity: 1 km, Beach: on the beach
Overview
Rinela Beach Resort & Spa is a rich ultra-all-inclusive 24h 5* family resort, in the area of Kokkini Hani in Crete. Rinela is located on a renovated and Blue Flag awarded sandy beach, with smooth entrance to the sea and with new wooden sun beds and umbrellas. The hotel features 393 rooms, while in its facilities, guests can enjoy various watersports activities, waterslides, games by the pool and on the beach.
As part of a new concept of luxurious hospitality, the hotel is totally transformed to create higher volume accommodation with private or sharing pools, more thematic restaurants, more common areas and upscale guest facilities and services. The pool areas, beach, common areas, F&B outlets and all 393 rooms will be completely renovated revealing an entirely new hotel to Rinela's guests.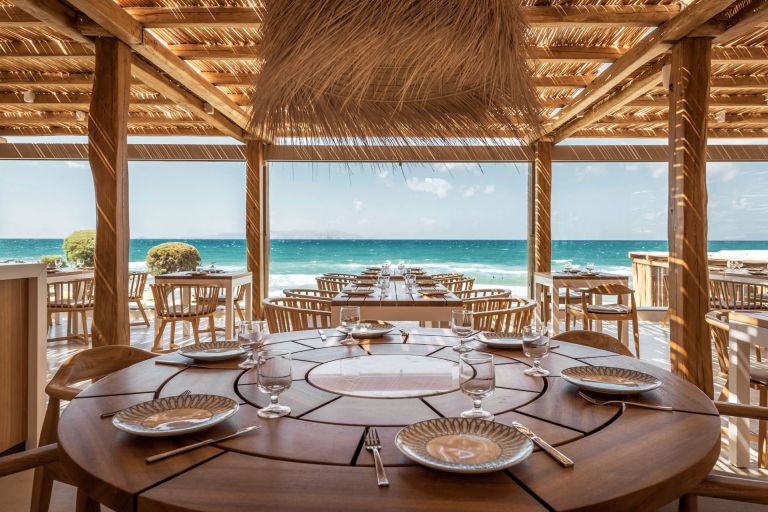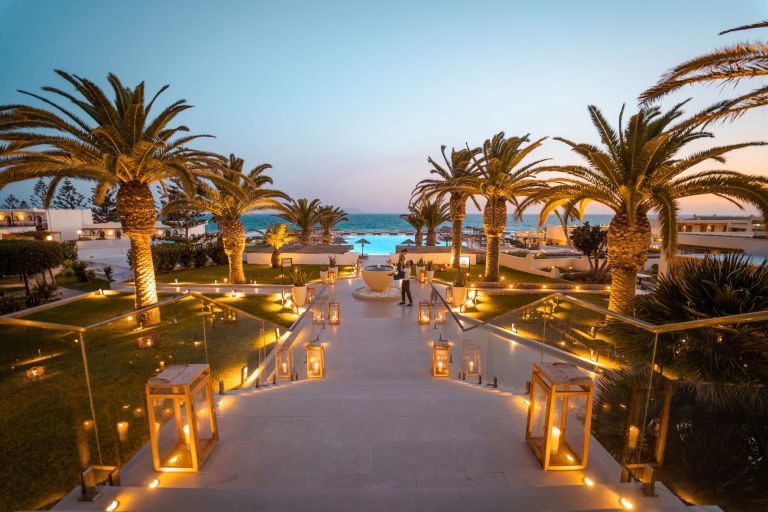 Recreation
Rinela offers you holidays in Crete full of activities and sports for all-day summer fun! Get physical or simply take in the water paradise. Get geared up to explore the endless turquoise with parasailing, jet skiing and many more.
A whole new chapter of relaxation awaits you at Rinela Beach Resort & Spa. Come embrace all aspects of your well-being at "Zeen Spa", hosted within the hotel premises and operating on daily basis for all our guests.
Enjoy our rich recreation programme, join amazing events and experience the holidays of your lifetime with day and night entertainment, live bands, acrobat artist shows, magician nights, day trips, educational visits and more.
Services
With a rich blend of hotel services offered at Rinela Beach Resort & Spa and with our courteous and professional staff entirely dedicated to every desire of yours, it is certain that your vacation will be an enjoyable experience you will long remember! Let us create a tailor-made stay for you and give you the opportunity to live the holiday of your dreams inside or outside the hotel.
Guest Reviews
Excellent holiday
Excellent hotel, far more than expected. The staff was attentive and friendly and the food was excellent. Overall it was a superb experience, can't wait to go back to Rinela next year.
Brilliant holiday
Everything was excellent, the room, the food, the pool area. The animation team was exceptional. We loved the whole experience and have just booked for May 2020, can't wait!
Memorable stay
We had the most relaxing and romantic weekend. We enjoyed the spectacular sunset, at the main bar's terrace and at the Taverna during dinner and spoiled ourselves at the spa!
Excellent
Everything was perfect at Mitsis Rinela... The staff was very friendly and helpful. The food was very tasty, our favourite place was the greek taverna and the new Champagne bar.
5 star choice
It is a very good option for all in hotel. Amazing location with private beach sandy and clean. Modern facility with many options for rooms. Very helpful and smiling staff.